Vision
call your opportunity
We will transform your idea, thinking, products or services.
We will bring together brilliant minds to inspire and shape the future.
We do this with unbounded energy.
We will invest passion, enthusiasm and excitement.
We will be fearless in our caring.
"We" means our employees, clients, partners and all who are touched by what we do.

We innovate in order to inspire.
We dream and do.
Process
XNET developed a process for planning, conceptualizing, and performing solutions to complex organization problems.
[more]
People

Ilan Magen
Founder, Programmer and Project manager.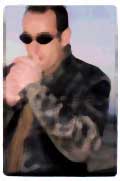 Inbazila
Art Director, head of conceptualizing and branding team.


Maccania (Jenia)
Screen saver and mouse hunting team.



Lorca
Web site planning, Designing, building, promoting, SEO, Ecommerce.
Top